Bundle up this Winter!
Wednesday, 20 December 2017 | Admin
With one of the most common triggers of Raynaud's disease episodes being the cold, it's now even more important than ever to bundle up this winter. With winter in full swing, now's the time when the syndrome will once again become a difficulty you have to face daily. But did you know there's actually a fairly easy way of preventing the condition for recurring? The cold is one of the most common causes of the syndrome, so staying warm works wonders to prevent Raynaud's from taking over your life.
To help you stay warm this winter, we've created a number of bundles with products we think are most helpful for reducing the number of episodes you suffer from throughout the year. Find out more about how you can literally bundle up this winter by reading our helpful blog!
Complete Raynaud's Disease Body Protection Bundle
Living in a house with draughts and poor heating can take its toll on your body and cause an influx in Raynaud's disease episodes. But sometimes finding a solution to the cause can be too costly to do immediately. When this is the case, the Complete Raynaud's Disease Body Protection Bundle is a cost effective option. This bundle includes the following three items to help you battle the cold weather:
The B-Warm Heated Seat Cover is an excellent electronic heater that costs less than a penny an hour to run. This cover can be placed on most seats or chairs. As it covers your seat from head to toe, it provides you with warmth to the whole of your body. Use this with the silver gloves and 9% silver socks and we're sure your fingers won't turn white any time soon!
As silver has one of the lowest radiant heat loss rates, both the silver gloves and silver socks will help keep you as warm as possible. Your extremities are of course the first areas of your body to be targeted by Raynaud's disease, so protecting these parts can work wonders in improving blood flood and therefore reducing attacks of the disease.
Complete Raynaud's Disease Foot Protection Bundle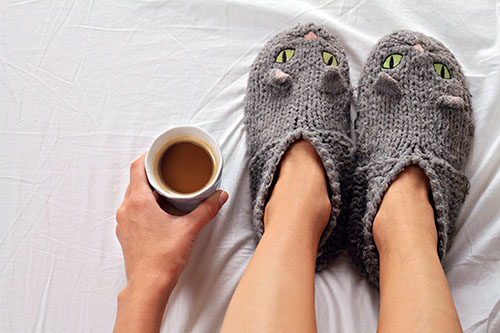 If you suffer from conditions like Buerger's syndrome, which causes inflammation in the blood vessels of your hands and feet, you might be more susceptible to suffering from symptoms of Raynaud's disease in your feet as well as your hands. When this is the case, it's even more important than usual to keep your feet warm and cosy in the cold months. The Complete Raynaud's Disease Foot Protection Bundle includes the following items to ward off the cold weather:
Rather than forking out a lot of money for fur-lined boots, this bundle is a cost effective method of helping to get the blood flowing to your feet. Having cold toes and feet can be painful, which might effect your gait. Designed with pure wool, the Pedag Viva Insoles are soft and warm against your feet. This, paired with the 9% Silver Socks, helps trap heat in the area and reflect it back to your skin to help you remain active without suffering from episodes of the condition.
Taping the Self-Adhesive Heat Pads to your socks will also provide you with discreet warmth for up to five hours. Plus, you don't even have to feel guilty about using these as they work via a chemical reaction that uses biodegradable natural ingredients! This means you can easily dispose of the pads when they've served their purpose.
Have you purchased one of our latest bundles? If so, which one? Let us know in the comments below, or find us on Facebook or Twitter!