They Rock! HotRox Electric Hand Warmer
23 September 2015 | Admin
Any hands that suffer from Raynaud's Disease know how important it is to keep warm, and how that's easier said than done. With something as simple as walking through an air conditioned room being a source of worry for Raynaud's suffering hands, never worry again with the HotRox Electric Hand Warmer!
Warmth Wherever, Whenever
Forget the messy chemical sachets of old, the HotRox is reusable, rechargeable and far more reliable than one-use hand warmers that can accidentally activate and quickly run out of steam. One purchase gives you this one-stop-shop of portable heat, and with 6 hours performance per charge, HotRox outstrips the competition every time.
At only 1.9mm thick, HotRox hand warmers fit perfectly into the palm of your hand, the side of a handbag, a jacket pocket, a cold shoe in need of heating – anywhere you need! Heat on demand at the flick of a switch, HotRox takes only 15 seconds to fully heat, with two heat settings, and have an equally as quick cool-down time for safe storage.

Handheld Heat
Unlike many traditional hand warmers that need to be covered to be used, the HotRox can be held in your bare hands in total comfort without fear of burning or spillages. A smooth, tactile finish lets the HotRox sit in the palm without stretching or straining the fingers. Go ahead and try two at a time for total hand heat when you need it!
Perfect for skiing, fishing, gardening, outdoor sports or simply a chilly morning's commute, the versatile and durable build of the HotRox means staying warm is easier than ever, no matter where you are.
Relax and Recharge
Relax in the knowledge that you can always have instant heat on hand – HotRox is fully charged in just 2 hours, ready to provide 6 hours worth of heat at the flick of a switch. Rechargeable by mains or by USB, whether you're at home, in the office, or on the go, you're sure to be able to find a way to revive your HotRox and relieve cold hands.
No mess, no fuss and no fiddly refuelling business, traditional charcoal and zippo lighters are a thing of the past when it comes to this innovative heat-giving gadget. Powered by a lithium battery, Hotrox has been built to last 500 charges without its performance being compromised. Compare that to traditional disposable hand warmers that last as little as mere minutes, or refillable ones which quickly burn through fuel, and Hotrox is not only the convenient way to stay warm, it's the cheapest way, too!
Discourage Raynaud's Disease
Having a small but mighty HotRox on hand means you can always be one step ahead of Raynaud's Attacks. The perfect companion to heat-retaining silver gloves, enjoy Instant warmth the moment things turn chilly and stay safe from Raynaud's making your day any more stressful than it needs to be.
Visit our online store for our range of HotRox electronic hand warmers, the handiest Raynaud's remedy around!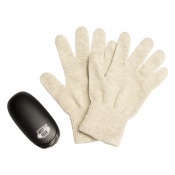 £41.99
| | | |
| --- | --- | --- |
| | | In stock now |
Handwarmer gives up to 6 hours of heat
Gloves contain 8% silver to reflect heat
Combined to keep your hands warm
Ideal for Raynaud's disease